Bathroom Flooring Options
As with kitchens, there are a number of options when it comes to bathroom floors. However in a room where so much water flows and there's potential for damage, there are only a couple that I usually recommend.
Before You Buy…
When trying to decide what type of flooring to install in a bathroom ask yourself a few questions.
How durable is it?
Is it water resistant?
Is it slippery?
Will it stand up to kids?
Does it suit the style of the room/home?
Is the bathroom purely utilitarian or is it a spa bath?
Knowing what your needs are ahead of time will allow you to make a smart decision.

Bathroom Flooring Pros and Cons
**Please note that prices can vary drastically depending on the complexity of the design so use the prices below as a guideline only.
Hardwood, Engineered Wood, and Laminate – While these are great flooring choices in kitchens and other areas of the house, think twice before installing them in a bathroom. The amount of water that runs through this room make them too risky of a choice. If any of these types of flooring get soaked they will heave and buckle and need to be completely replaced. The only time I use hardwood is if it's already existing and I want to keep the old character of the home.
Hardwood – $6-$15 per square foot, installed
Engineered – $4-$18 per square foot, installed
Laminate – $3-$7 per square foot, installed
Cork – A nice eco-conscious choice, cork is soft underfoot, warm, and it resists mildew. It's also antimicrobial, hypoallergenic, biodegradable and recyclable. Cork has excellent insulation properties too, meaning it will suffer minimal heat loss. However like all varieties of wood, once it's been exposed to water it can warp, plump, and distort, making it a risky choice for bathrooms.
$4-$15 per square foot, installed
Marble – A popular choice for those who can afford it, marble can look great, but I personally don't like it for bathroom floors. Marble tends to chip and crack easily at the corners so you can lose a lot during installation. Also, unless it's been properly sealed for a bathroom, it takes a lot of maintenance.
$8-$50 per square foot, installed
Vinyl – Vinyl plank flooring is extremely durable and waterproof, making it a natural choice for basements, bathrooms, and kitchens. Sheet vinyl has long been a popular choice (there are no seams for water to seep through), however these days I prefer to use vinyl plank.
$2-$7 per square foot, installed
Ceramic – One of the most popular choices for bathrooms because it's durable, waterproof and stain resistant. It's also resistant to bacteria and odours, and it offers a clean and classic look. To avoid slips look for something that is certified slip resistant.
$4-$12 per square foot, installed
Porcelain – Harder than ceramic, porcelain is a popular choice because it's a little bit tougher. It has the same benefits of ceramic (waterproof, stain resistant, etc.) but it also has the same drawbacks – without radiant heat underneath, both porcelain and ceramic tile can be cold on your feet, and it can be uncomfortable to stand on for long periods.
$4-$12 per square foot, installed
In 95% of the bathrooms I do I use ceramic or porcelain tile, and usually stick with standard floor tiles, as long as they don't have a slippery surface. In bathrooms where I can't properly level the floor for tiling (usually because I don't want to lose height in a basement), I opt for vinyl plank flooring.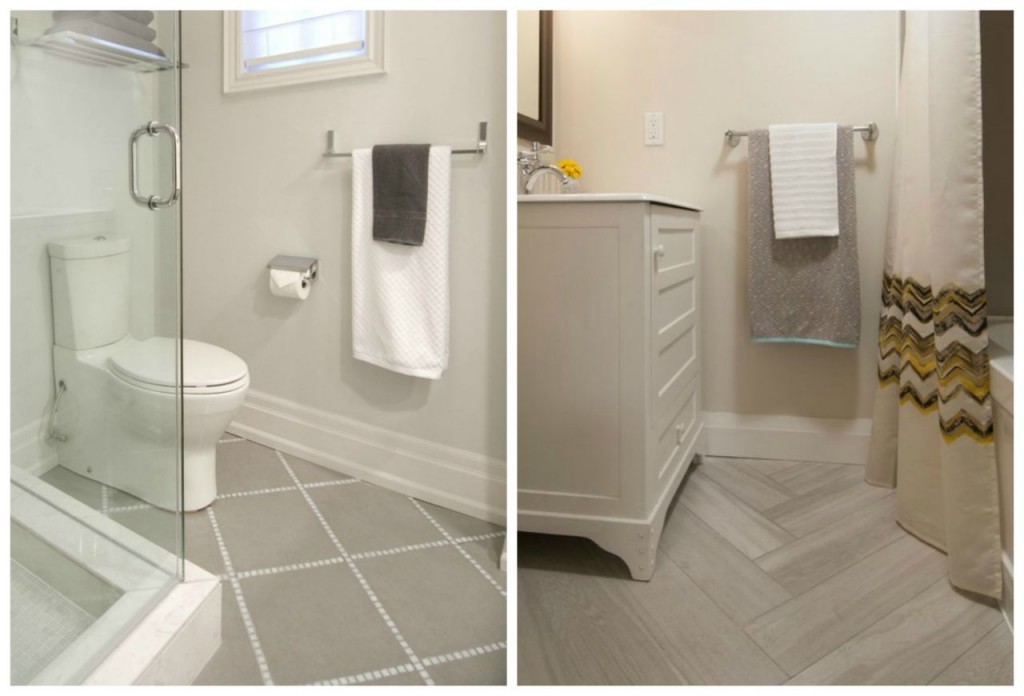 #ScottTip – Just say no to carpet. It is the worst possible choice for bathrooms. There will always be people out there who claim they love it, but no matter how tidy the room, and no matter how careful you are, the first thing most people think when they see carpet in a bathroom is "Eww". It's bad for resale and it can be potentially bad for your health as mold and mildew are pretty much a guarantee.