Choosing the Right Alarm per Area
Protecting your home and family should always be the top priority, and knowing what alarms to put where will go a long way in keeping your loved ones safe. Kidde smoke and CO alarms are rigorously tested and are approved for use in any room in the house as specified by the user guide. It's important to check, because some alarms have added features that may make them more beneficial for certain areas. 
Living Rooms
For living rooms, I like to use a combination alarm, like Kidde's 10-Year Battery Worry-Free Talking Smoke & Carbon Monoxide Alarm. Having just one alarm that does 2 jobs reduces installation time and protects against both fire and carbon monoxide dangers. It has Intelligent Sensor Technology, which combines the detection capabilities of a photoelectric smoke sensor with that of an electrochemical sensor, to better differentiate between a real hazard and a false one. And the 10-year battery means you and your home are protected for a full decade without having to remember to constantly change batteries.
Bedrooms
In bedrooms, it's important to have a smoke alarm that's going to wake you up! That's why Kidde recommends their 10-Year Battery Worry-Free Talking Smoke Alarm.  The 85dB alarm tone is accompanied by a voice warning feature for extra peace of mind so that you'll be alerted in case of a fire.  Some jurisdictions require a smoke alarm with a strobe for bedrooms (don't worry, Kidde makes those too!), so check your local fire code for exactly what's required where you live.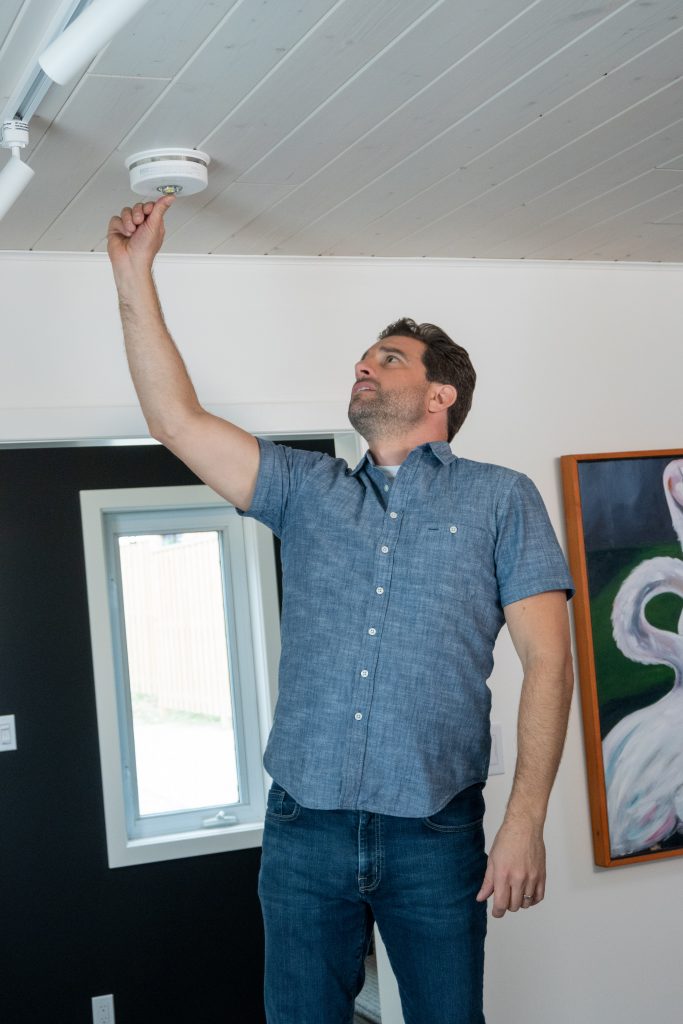 Hallways
Most people add a smoke alarm to their hallways, but have you ever considered that you should be using a specific type? Kidde's 10-Year Battery Worry-Free Smoke Alarm with LED Safety Light is the perfect alarm for hallways because not only does it have an 85db alarm and voice alert feature, it also includes a LED safety light that illuminates when the alarm sounds to help guide you to safety in the case of a fire during the night. This smoke alarm uses photoelectric sensing technology. Photoelectric sensing alarms may detect visible fire particles (associated with slow smoldering fires) sooner than ionization alarms.
Kitchens
Kitchens are the room in the home most associated with fires, so having the right smoke alarm in that room is key. In kitchens – especially when you have gas appliances – it's recommended that you use a combination alarm, like Kidde's 10-Year Battery Worry-Free Talking Smoke & Carbon Monoxide Alarm. This 2-in-1 alarm protects your home from both fire and carbon monoxide dangers where you need it most. Just remember – install your alarm at least 10-feet away from cooking appliances to avoid potential false alarms!
Choosing the right alarm per area is very important. To learn more, visit kidde.com or kiddecanada.com