Laundry Room Do's and Don'ts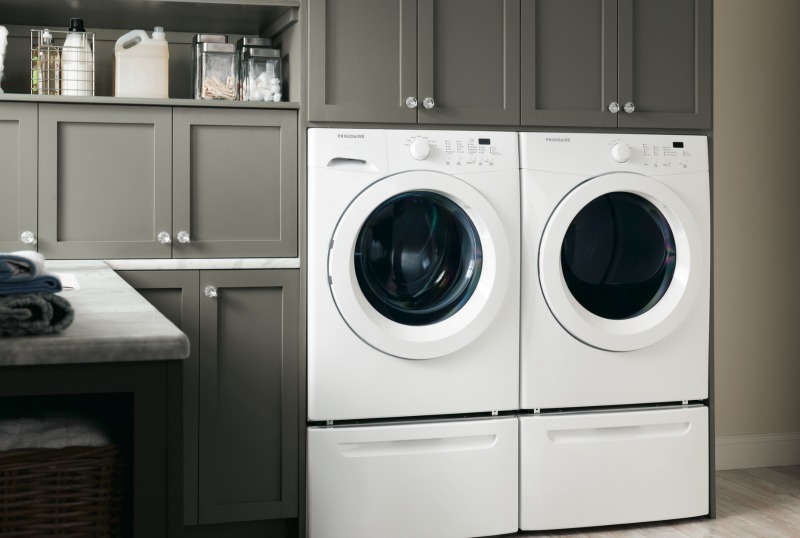 Laundry rooms are moving up in the world – literally. They used to be relegated to basements but more and more we're seeing them move up to main and second floors. It makes sense. As our lives become more hectic we want to travel less to do our chores. We're willing to pay for convenience and not having to travel to the basement to do laundry is a big one.
Putting in a new laundry room requires some special considerations. Washer mishaps are among the leading causes of home floods, and dryers account for thousands of fires every year.
I recommend working with a professional to ensure everything is done properly, safely, and to code, but here are some tips to get you started.
Laundry Room Planning
DO carefully consider location. For convenience, on the main floor anywhere off the kitchen makes sense, as does a mudroom or off the garage. On a second floor try to position it so it backs onto a bathroom.
DON'T put the laundry too close to sleeping areas. The noise will keep you awake.
DO consider where you can tie in to existing plumbing. Close to kitchens and washrooms obviously makes sense.
DON'T ignore the importance of good ventilation. Laundry generates significant amounts of heat and moisture and ventilation to the outside is a must. The ventilation hose should be a rigid metal in order to decrease the build-up of lint (this is required by law in most areas).
DO make sure that your laundry room has a floor drain – which will require a primer line. The primer line will flow water into the C-trap of the drain, creating a seal that keeps sewer gasses from backing up into your home.
DON'T think that you have to have an entire room dedicated to laundry. When space is limited it can be hidden in a closet or cabinet. Sometimes you can even squeeze some shelving in with it.
DO give some thought to whether you want top-loaders or front loaders. Top loaders used to be the norm but front loaders are easier to clean, more efficient and offer more flexibility for placement.
DON'T put your machines into sunrooms or additions that aren't heated. Unless a heat source is added when the washer is installed you can run the risk of frozen pipes and all the damage that can come with them.
Design
DON'T go over the top. While stylish laundry rooms are becoming increasingly popular, spending a lot of money on a designer laundry room won't get you a very good ROI.
DO stick with the basics in order to get the best ROI. You need a washer, dryer, sink and a bit of storage. Everything else is just a luxury.
DON'T forget about lighting. General, ambient light is an obvious requirement, but consider task lighting to illuminate certain areas. Having the right amount of light when performing tasks like ironing or sewing is important.
DO choose a durable type of flooring. Since laundry rooms tend to have a lot of the same issues as bathrooms, check out my bathroom flooring article for advice.
DON'T choose wallpaper or any other types of wall treatments that don't stand up well to water. Easy-to-wipe semigloss paint or some type of durable tile is a good way to inject color and pattern while still being practical.
DO choose a non-porous counter material such as engineered stone or laminate.

Remember, stylish, designer laundry rooms are great if you have the space and the budget, but when it comes to ROI keep it simple. Over-investing in this room won't do you much good in the long run.
Photos courtesy of Frigidaire, Cambria and HGTV.ca's Moving the McGillivrays