Top Kitchen and Bath Trends for 2017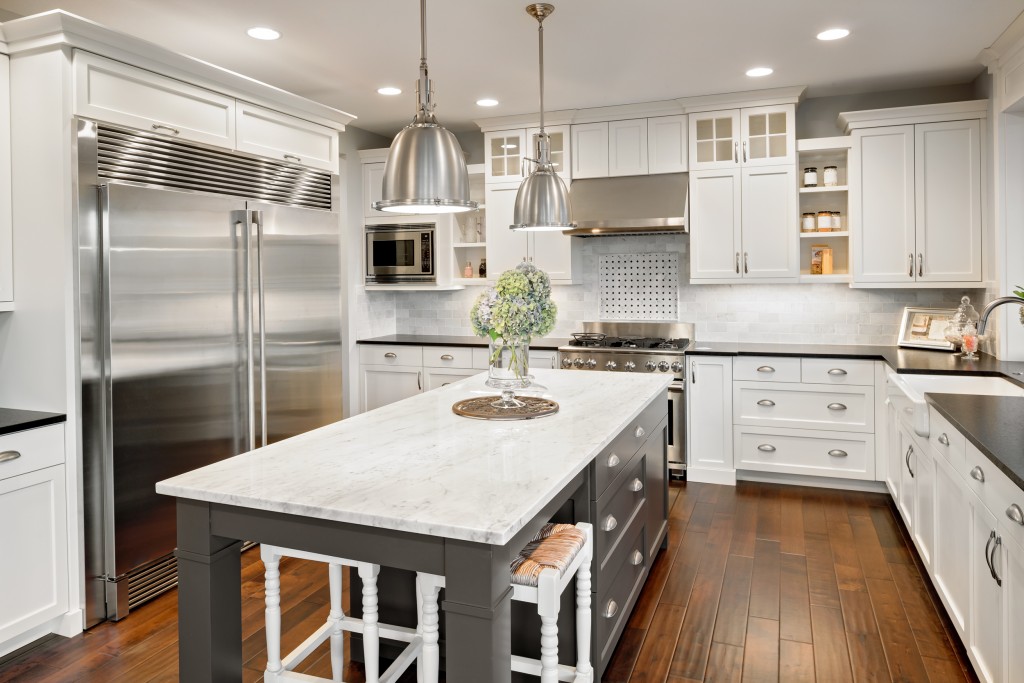 It's been said many times that "trend" is a bad word, and whenever I talk about trends I get strong reactions from people. There are some people who instantly assume trends should be avoided, while others can't wait to see what's up and coming in the design world. Personally I never plan my renovations around specific trends because you never know if they'll last or not, however there are definitely some that make their way into my projects in subtle ways.
Regardless of whether or not you're a trend hunter, it's always interesting to see what's popular and what direction the renovation and design industries are heading in. So here are my top 3 kitchen and bath trends for the coming year.
Kitchen Trends
Quartz Counters – This is one trend I've embraced big time, and if you've watched Moving the McGillivrays (the HGTV show about my house), you'll know that I worked it into almost every room in the house. In the kitchen Quartz is a great idea for a few reasons – it looks great, it's incredibly durable and it won't scratch or stain. So while it may be considered trendy at the moment, I fully expect Quartz to stick around for the long haul.
Universal Design – Elements of universal design have been creeping into interiors for a while now, and this year I expect even more people to embrace these principles. As our population ages it's becoming more and more important to ensure we keep our loved ones safe in the home. Things like home automation, barrier free bathrooms, open shelving, and wider doorways can make our homes function better for the elderly and those with accessibility issues. And as the design and renovation communities begin to explore these principles further, even more great looking options are becoming available.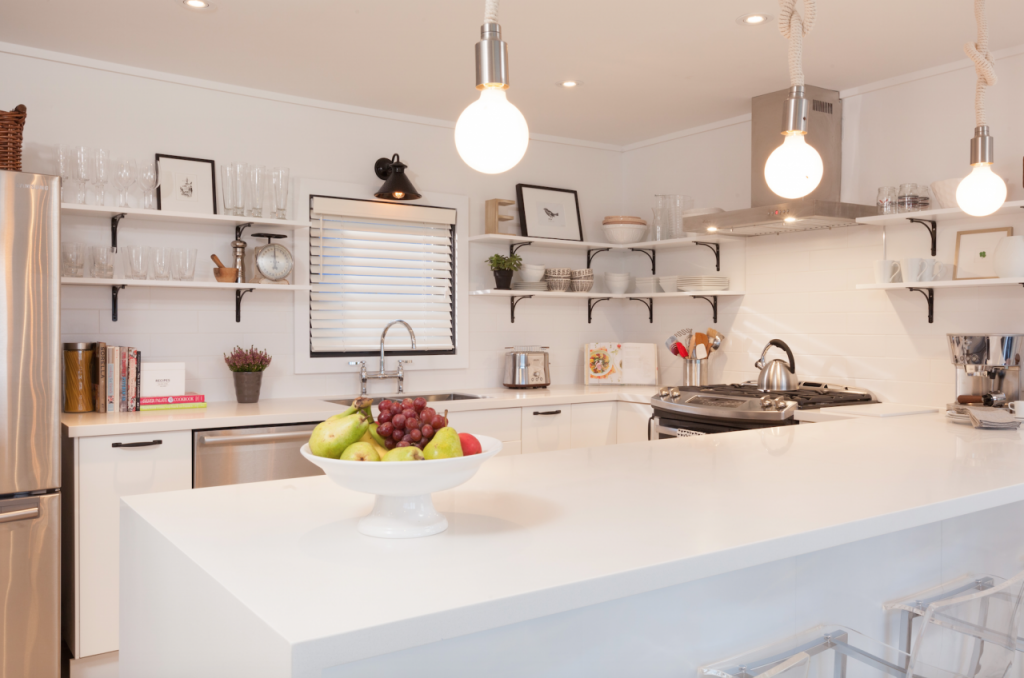 Two Tone Cabinets –When I first tried two-tone cabinetry in a project several years ago people thought it was a little strange, but suddenly everybody's doing it! It's a great way to breathe life into a plain kitchen and it can work with pretty much any style. The look may or may not be here to stay, but as long as you stick with neutral colors and a simple design you should be safe.
Bathroom Trends
Bold Color Combos – This is one of those trends where I say only do it if you really love it, because bold colors can always be tricky when it comes to resale value. In my own guest bathroom I decided to have a little fun with this trend by using the graphic combination of black and white – a look that I personally love. While I'm perfectly aware that this look isn't for everyone, black and white is a great way to create an impact while still staying relatively neutral.
Single Slab Tile – I love this one. It's not the least expensive option out there, but it looks great and ensures a certain amount of waterproofing. In my master bath we used large slabs of Quartz for the shower – including the ceiling. I love the uninterrupted finish and lack of grout lines.
Curbless Showers – Up until now, curbless showers have been relatively rare, but I expect we'll see a lot more of them in the coming months. Not only do they open up spaces and make rooms feel bigger, they adhere to the principles of universal design (another big trend). Curbless showers also invoke a sense of luxury, but modern materials and large format tiles make them much easier and more affordable to build than most people think.
Keep in mind that trends rarely last just a year, and the ones I picked for last year are still hot! Check them out here. And if you want to see more photos from Moving the McGillivrays check them out at HGTV.ca.
Top image courtesy of istockphoto.com/hikesterson, kitchen images courtesy of HGTV Canada and Skit Inc, bathroom photos courtesy of HGTV Canada and McGillivray Group.