Basement Flooring Options
When deciding the best type of flooring for your basement, there are a few things you need to think about. Price is obviously a big one, but so is lifestyle, the style of the home, the climate, and future needs. Here are the most popular basement flooring options along with some of their pros and cons.
Basement Flooring Options
The best part of all of these basement flooring options is that they can be installed over DryBarrier subfloor, ensuring mold protection, warmth and comfort. For specific instructions on how much to purchase and to install laminate, carpet, engineered hardwood, vinyl and tile over DryBarrier, please check out their materials calculator and installation guides.
Don't Forget…
…about transitions.
Any time you're switching between flooring materials, you want to have a transition to protect the edges of the floor. They're also important for safety because they can reduce tripping hazards.
T-Molding – creates a transition between two floors of equal thickness.
Reducer – used when two floors of slightly different thicknesses meet, such as laminate and ceramic, or vinyl and wood.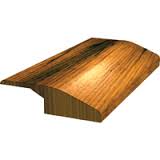 End Reducer – used when there is a significant height difference between two flooring types. These usually come in handy when a thick pile carpet is involved.
In most cases you can find transitions that match the color of hardwood or laminate floors. Metal transitions also work well in many instances.