Scott's Top 5 – Motivational Books
People are always asking me for my recipe for success. It's not an easy question to answer. But if there's one thing I thing I can recommend when it comes to achieving success, it's to never stop trying to learn. Listen to those around you, explore new opportunities, and read books. And read books. And read books. Did I mention read books? It bears repeating, because it's one of the best ways to learn and open your mind to new possibilities. Which is why I'm starting this blog series about some of my favourite books on the topics of motivation, finance, real estate – you name it.
Just to be clear, reading a book will not make you rich or successful. What a book might do is introduce some new ideas, or challenge you to think in a way you hadn't thought before.
As you read any of these books you may disagree with some of the points, but even when this happens it can help you to clarify or reaffirm your own theories and philosophies. Remember, you can learn from other people's failures as much as you can from their successes.
I'm starting with some motivational books, because that's where it all begins. So if you're looking for a little kick to get you going check out these books. Just remember that they won't accomplish anything without real action on your part – but they might just spark some motivation.

Think and Grow Rich (Napoleon Hill, 1937) – This book may have been published during the Great Depression but it really goes to show that truly successful strategies never get dated. There's a reason it's one of the best selling books of all time.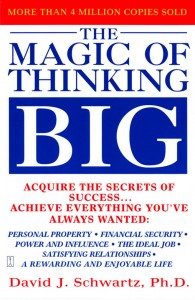 The Magic of Thinking Big (David Schwartz, 1959) – This classic book is all about setting high goals and using positive thinking to achieve them. While some people brush it off, I really believe that holding on to negative thoughts can sabotage success – both in business and in life.
The Happiness Advantage (Shawn Achor, 2011) – Continuing on with the theme of happiness and success, this book focuses on seven core principles of positive psychology that all of us can use to improve our performance, grow our careers, and be successful at work.
Be Obsessed or Be Average (Grant Cardone, 2016) – One of my favourite sayings is "don't let good get in the way of great", and Be Obsessed or Be Average feels like the natural continuation of that philosophy. This is not a book about creating balance in your life. Cardone's theory is that's just an excuse to be unexceptional. Buckle in for this one!
Limitless: Destroy Your Fears, Escape Your Comfort Zone, and Conquer Any Goal – Create the Life You Want (Patrick King, 2016) – The fear of failure is the most common thing that stops us from moving forward. This book teaches how to create the life you want by getting past the fear and taking real action.
What motivational books are on your list? Leave a comment below and let me know your recommendations!